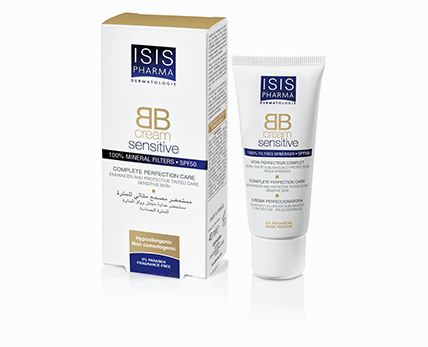 BB CREAM RANGE
BB cream sensitive is an enhancer and protective tinted care for sensitive skin.
Have you ever heard of BB cream?

The BB cream was developed in France and was initially used to protect, soothe and regenerate the highly sensitive skin of patients who had undergone laser surgery while providing good coverage for post-laser scars and redness.

Now known as blemish balm and beauty balm, this cream is a tinted moisturizer with extra benefits, an all-in-one product which answers to the skin needs.
Our expert advice
Because your skin is unique
Evitați expunerea la soare

Use ISISPHARMA sun protection on exposed areas all the year and also to prevent photosensitivity reactions due to specific medicines

Avoid cosmetics, fragances or products containing alcohol
Evitați expunerea la soare

Use ISISPHARMA sun protection on exposed areas all the year and also to prevent photosensitivity reactions due to specific medicines

Avoid cosmetics, fragances or products containing alcohol