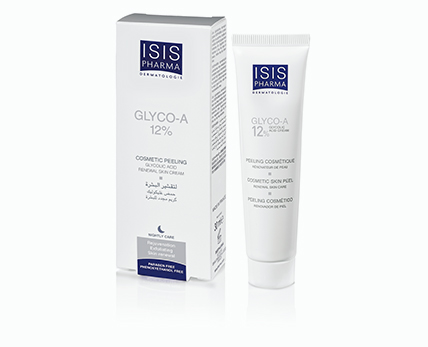 GLYCO-A®
GLYCO-A® 12% is a cosmetic peeling. Perfect complementary product for different disorders to bring radiance and uniformity. Ideal product to help you recover the natural balance of a healthy skin.

What are superficial peelings?

More

Mechanism

Superficial peelings are recommended to stimulate skin renewal when complexion radiance and uniformity are altered by ageing and pathologies. They help the reduction and disappearance of sun damages, hyperpigmentation spots, acne lesions, fine lines and wrinkles.
Our expert advices
Because your skin is unique
Ask your dermatologist or healthcare professional

Spălați-vă pe față cu un produs de curățare delicat

Evitați expunerea la soare

Folosiți produsele solare ISISPHARMA pe zonele expuse pe toată perioada anului și pentru a preveni reacțiile fotosensibile induse de anumite medicamente
Ask your dermatologist or healthcare professional

Spălați-vă pe față cu un produs de curățare delicat

Evitați expunerea la soare

Folosiți produsele solare ISISPHARMA pe zonele expuse pe toată perioada anului și pentru a preveni reacțiile fotosensibile induse de anumite medicamente